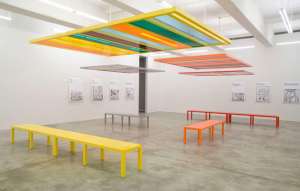 Liam Gillick's sculpture, writing and design relate to architectural space, but rarely encourage us to inhabit it, making the seemingly simple addition of benches to his previously debuted overhead sculptures (titled 'discussion platforms') a profound development.  In a video, Gillick advocates occupation of time, not space, as a means to bring about social change; paradoxically, the new sculpture seems to allow both and relies heavily on the artist's habitual hope that simple objects will convey complex ideology.
Gillick would be the last artist to purposefully set up binary oppositions, but fundamental incongruities abound, as when the proximity of colorful sculpture makes ordinary benches look beautiful.  In the video, we peer over the artist's shoulder into the dual emptiness of his sterile workspace and his computer screen, where he manipulates an architectural drawing of a factory inspired by a Godard film.  The accompanying jargon-filled soundtrack offers a flood of words from the 'authoritative voice' Gillick abhors and frustratingly resists any connection to the source material.
In the main gallery, a textual exchange between a quasi time traveler and a contemporary bartender paired with images from medieval woodcuts is more likely to catalyze Gillick's audience with its provocative blur of time and place.  Familiar and strange at the same time, the centuries-old scenes of labor and communal celebration are a puzzle and an exhortation to consider the leisure time we're enjoying as we sit.  Benches – perches of lovers, readers or the homeless – may be less the seats of power than tables or desks, but their identity as temporary resting places is a perfect fit for the in-and-out patterns of gallery visitors and the speculative nature of Gillick's project.