For 'Tema Celeste' magazine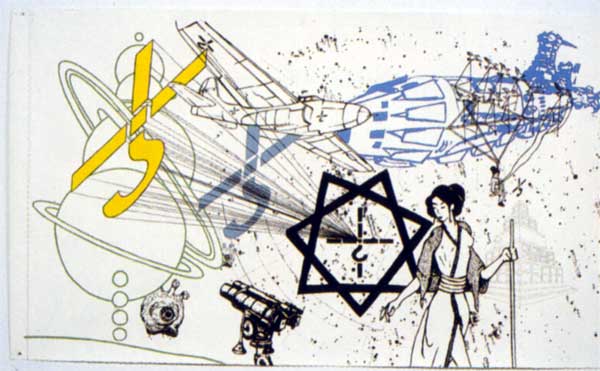 Jesse Bransford dares to go where image-conscious artists fear to tread. Other young artists, whose work also incorporates fractured architectural renderings, scenes from outer space, and fantastic creatures, share the space-age aesthetic evident in Bransford's eight large drawings and wall mural. However, this artist's attraction to systems of knowledge from around the world and personal fascination with the heavy-metal band Blue Öyster Cult (BÖC) compel him to investigate beyond the safety zone of fashionable subjects.
By incorporating various symbols from astronomy, world mythology, and science fiction in his drawings, the artist has developed a unique vocabulary. In one piece, a huge-eyed extraterrestrial stands on top of a funnel projecting the symbol of Heaven's Gate, the cult whose members organized a mass suicide in California in 1997. Nearby are alien ships, planets, winged beasts, and a giant scarab. In another drawing, a man wearing a top hat and long beard stands in front of a celestial map as he operates an enormous telescope. To his right stands a creature that is half man, half fish, beyond which appears a question-mark shape associated with BÖC. A giant phallus, a man on a premodern flying machine, and clusters of planets recur in several drawings.
As long as human beings persist in asking fundamental questions—"Who are we? What are we doing here?"—science , technology, and mythology will continue to provide inadequate answers. In the meantime, Bransford's accumulated findings make for some interesting imagery. Just as the artist is attracted to BÖC's homemade cosmology for its "transhistorical and nonlinear" characteristics, he plunges into alchemical and astrological texts for answers to life's mysteries. In addition to the zodiacal diagrams, random symbols, and space-age machinery, Bransford reproduces mutated creatures that are reminiscent of the twisted imagination of Hieronymus Bosch or the satirical engravings of Pieter Bruegel. Bransford's references to iconographic systems from the past, brought into the twenty-first century and combined with symbols of mystical knowledge, produce sometimes apocalyptic and usually fantastical results. The Dungeons and Dragons edge that pops up now and again, as well as the artist's allusions to heavy-metal imagery, will be like candy to some, poison to others. But when Bransford's worlds collide, they produce a powerful commentary on the search for meaning in life.