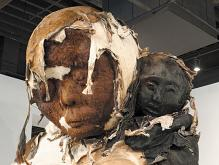 After he moved to Shanghai from New York in 2005, Chinese art star Zhang Huan hired a huge staff to man a factory-like studio; the enormous installations that fill PaceWildenstein's two downtown galleries give ample evidence of the scale of his industry since. But the new work lacks Zhang's signature risk-taking, making it feel safe, easy to consume—and fashionably "Chinese."
The show's centerpiece, a nearly 60-foot-long "painting," is as interesting for the technique used to create it (carefully spread ash from burnt temple offerings) as for what it depicts: an ambitious Mao-era canal project with potential correlations to ambitious contemporary undertakings such as China's massive Three Gorges Dam. Zhang's recycling is also conceptually engaging—using highly symbolic spent materials to create something new, which, in turn, refers to the past. But in light of the artist's past performance-art pieces, for which he coated himself in fish, oil and honey in a public latrine, or donned a "muscle" suit made of raw meat, the ash paintings lack any sense of transgression.
Likewise, a series of "Memory Doors"—intricate carvings made over historical photos adhered to ancient wooden doors—are beautifully crafted, but their subject matter (peddlers overloaded with wares, farmers loading a truck) is more illustrative of China's shifting economy than particularly illuminating in an art sense. Ironically, the show's most ambiguous piece—a pregnant giant, covered by animal hides and slumped as if heavily burdened—might symbolize China's imperiled natural world, but it could also stand in for the unfortunate taming of one of China's most provocative artists.